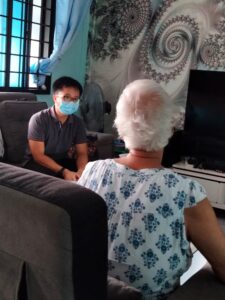 Calling for Volunteers!
Silver Pal Befriending
We are looking for volunteers to join us in our Silver Pal Befriending Programme.
The Silver Pal Befriending Programme aims to provide regular warm companionship and support to vulnerable elderly to relieve loneliness and social isolation.
At the same time, volunteer befrienders help to act as eyes and ears so that the elderly's needs can be understood and supported.
The elderly's overall emotional and psychological well-being will improve after a period of time. Hence, this will allow them to develop self-esteem and confidence and enable them to age in place.
Location of service: Bendemeer, Boon Keng, McNair Road, Towner Road, St George's Road and Race Course Road
Role of Befriender:
Spending regular meaningful time together (once a week)

Giving elderly attention and emotional support

Provide a listening ear

Assist to reduce social isolation

Encourage elderly to help themselves

Support caregivers (if necessary)
Criteria:
At least 21 years old and above

Fully vaccinated against COVID-19 (Proof of vaccination status would need to be produced)

Volunteer at least once a week for minimally an hour

Commitment level of at least 6 months

Willing to work alone if we are unable to pair you up with another volunteer
Come join us! For more information, please get in touch with us.
Winnie at 6422 1324 Click here - volunteer@kwsh.org.sg.
Individual Volunteer
Volunteering offers help to people in need. It's indeed a worthwhile cause, yet the benefits can be even greater for you, the volunteer. It helps you to make new friends, stay relevant and connect with the community, acquire new skills and provide a sense of purpose.
Volunteering doesn't have to involve a long-term commitment or take a huge amount of time out of your busy schedule. There is surely something that you can contribute as there are many volunteering opportunities here at KWSH.
Come join us and find out how you can be part of our KWSH family of volunteers!
No contribution and service are too insignificant. You can make a difference to the lives of our elderly by providing the following services:
Administrative work
Befriending
Direct mailer letter folding
Events crew (E.g. ushers, goodie bag distributors, decorators for festive occasions)
Flower arrangements
Fundraising
Gardening
Haircut
Handicraft work
Photography / Videography
Simple digital graphic design work
Specialised licensed skills (E.g. ad-hoc plumber work, simple bulb changing, repair work)
Translation work
Some of our residents suffer from long-term illnesses and require constant medical and nursing attention. If you are a healthcare professional and wish to dedicate some of your time and expertise to provide care for the needy, join us as a healthcare volunteer!
Corporate Volunteer
Corporate volunteering provides your company with the opportunity to develop staff skills, build teams and bolster your reputation within your local community.
Through corporate volunteering, it enhances your organisation's status in the community and raise the business profile. Your employees feel good and this improves employees' engagement when they are involved in this process of giving back to the community.
We welcome your organisation to help out at KWSH by organising social activities for our elderly, sponsor the elderly's outings and/or bring festive cheer. Improve your staff morale and promote the development of new skills such as leadership, project management and even team building skills among your colleagues and employees – all while doing your bit for society.
Join us and make an institutional commitment that encourages and entices the spirit of volunteerism amongst your employees!