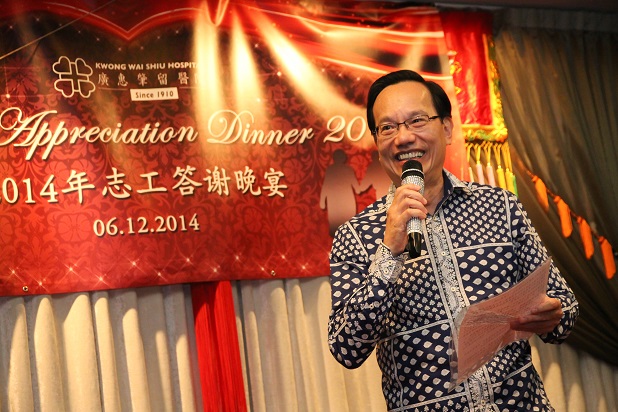 Volunteers Appreciation Dinner 2014
Kwong Wai Shiu Hospital (KWSH) held a special event on 6 December 2014 to celebrate the spirit of volunteerism.

For more than a century, KWSH has been able to provide professional care for our residents and clients, and our beneficiaries have enriching lives all due to the unwavering support and contributions of volunteers.

The guests included our Board of Directors and more than half of the volunteers have served KWSH for more than 5 years. Amongst the more than 200 guests at the dinner were two veteran volunteers, Mr Chin Chon Shin and Mdm Lee Ah Phee, who have volunteered with us for more than 30 years. Mr Chin, a retired school principal, regularly visits our residents who always look forward to meeting him to share about their joy and misery. Mdm Lee, who is in her 80s, is another befriender of KWSH. She not only volunteers regularly but would also mobilize her own group of seniors to organize various activities that bring joy to our residents.

KWSH is also grateful to Prof Chia Chay Puay, Mr Ngoh Tian Lock and Ms Wong Siok Khun, who have tirelessly served at our TCM Centre for 10 years. With their many years of experience, they have mentored a few hundred new physicians at the centre. Together with 70 other volunteer physicians, their valuable contributions have helped our centre build a good foundation for future growth and development.

Many events and activities at KWSH would not have been possible if not for the contributions of our regular volunteers. For example, the time and love given to our residents during the coffee/karaoke and Bingo sessions have made our residents' stay here more enjoyable and enriching. The skills and time of many volunteers, involved in the making of lanterns for our yearly Mid-Autumn Festival, have contributed to our fundraising efforts for the hospital. The list can go on and on and we can only say that all the volunteers' contributions to KWSH are priceless!