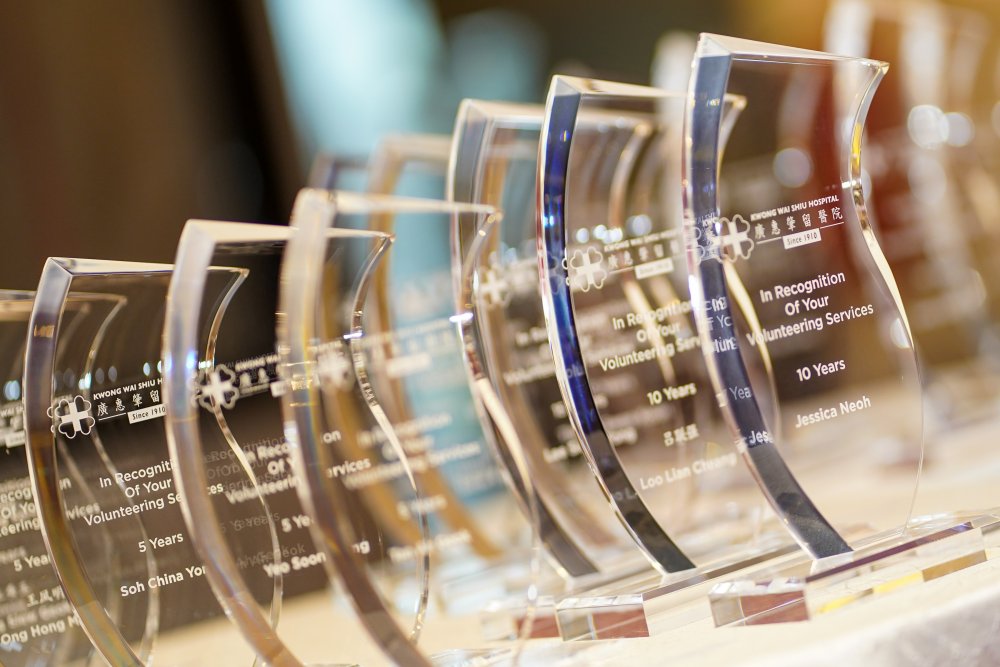 Volunteers Appreciation Dinner 2019 – A Starry Night with Our Glittering Volunteers
Kwong Wai Shiu Hospital's annual Volunteers Appreciation Dinner was held on Saturday, 30 November 2019, at the Imperial Court Restaurant, The Grassroots' Club, to celebrate the spirit of volunteerism and recognize the many volunteers who have served KWSH over the years. The theme of the event – "Starry Starry Night" – truly represented the passion and zeal of our volunteers who had shone like glittering stars, showing off its luminous infinite glow and warmth to our residents at KWSH.
More than 300 volunteers, including our Board of Directors, attended the event. They had a whale of a time over a scrumptious meal and fun-filled entertainment. The event echoed uproarious chorus of laughter as the volunteers let their hair down and enjoyed the night away.
Award plaques were presented to a total of 24 long service award recipients conveying our profound appreciation and recognition for their significant contributions to KWSH and our residents all these years.  Mr Lee Mee Goon received his 25 years long service award and his face lit up with impish glee as he was congratulated by our Chairman, Mr Patrick Lee, and CEO, Dr Ow Chee Chung. The 78-year-old said, "Helping others makes one happy. Helping more people, brings more joy."
Along with the plaques, the long service award recipients were also presented with their enhanced volunteer's identification tags. The new volunteer pass has been designed to better facilitate the volunteers' access within KWSH's compounds and at the same time, KWSH hopes to give our volunteers a sense of belonging and pride, reiterating the importance of our volunteers as an integral part of the KWSH family. These individualised volunteer passes will subsequently be distributed to all active volunteers by first quarter of 2020. 
The night also showcased a video montage highlighting KWSH volunteers' tireless efforts and exemplary works for our residents and KWSH, evidently seen in KWSH's recent induction into the Singapore Book of Records with the record for the Largest Lantern Wall in Singapore, a feat achieved during our Mid-Autumn Festival celebration in September!
KWSH is grateful to all our selfless volunteers for their admirable effort in serving our elderly. We look forward to the continuous support as we strive hand-in-hand towards the betterment of our residents and the community at large! Here's a shout-out to all our volunteers: THANK YOU!