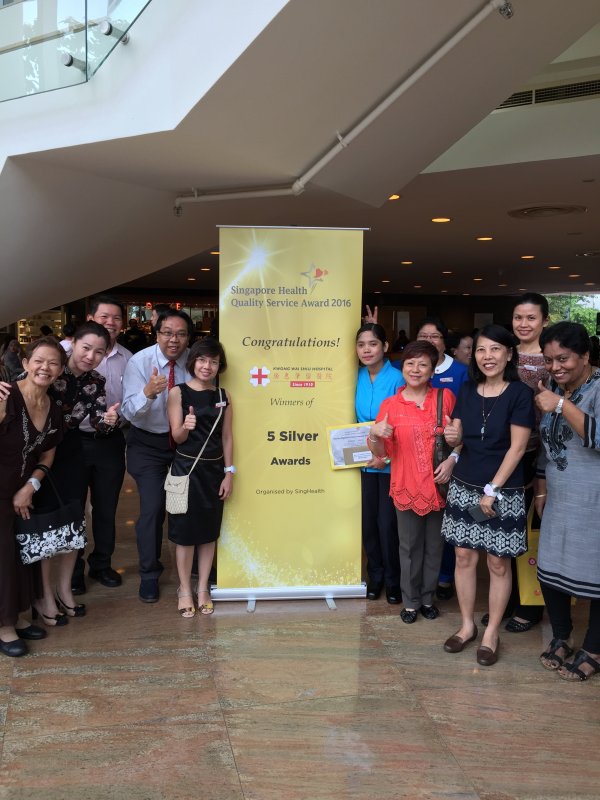 The Singapore Health Quality Service Award 2016
Congratulations to all our colleagues who received the Quality Service Award and Service Initiative Improvement – Merit Team Award at the Singapore Health Quality Service Award (SHQSA) 2016! The awards ceremony was held at the NUS University Cultural Centre on Tuesday, 26 January 2016. The award has been organised by the SingHealth Duke-NUS Academic Medical Centre since 2011, and is Singapore's first dedicated platform to honour healthcare professionals who have delivered quality care and excellent services to patients. We are proud to be among the 3,343 winners from various public healthcare institutions, community hospitals, ILTC sector and private healthcare institutions nationwide who were presented with the awards.
Our KWSH award recipients are:
1.     Quality Service Award – Silver Category
Ms Khin Mar Kyi (Ward 6)
Ms Toh Mei Kwan (Rehab)
Ms Aye Aye Maw (Rehab)
Ms G. Meenambal (Rehab)
Ms Josephine Phua (Rehab)

2.     Service Initiative Improvement Merit Award Team – Best Team Category
Our heartiest congratulations to our colleagues and let's strive for even greater heights!