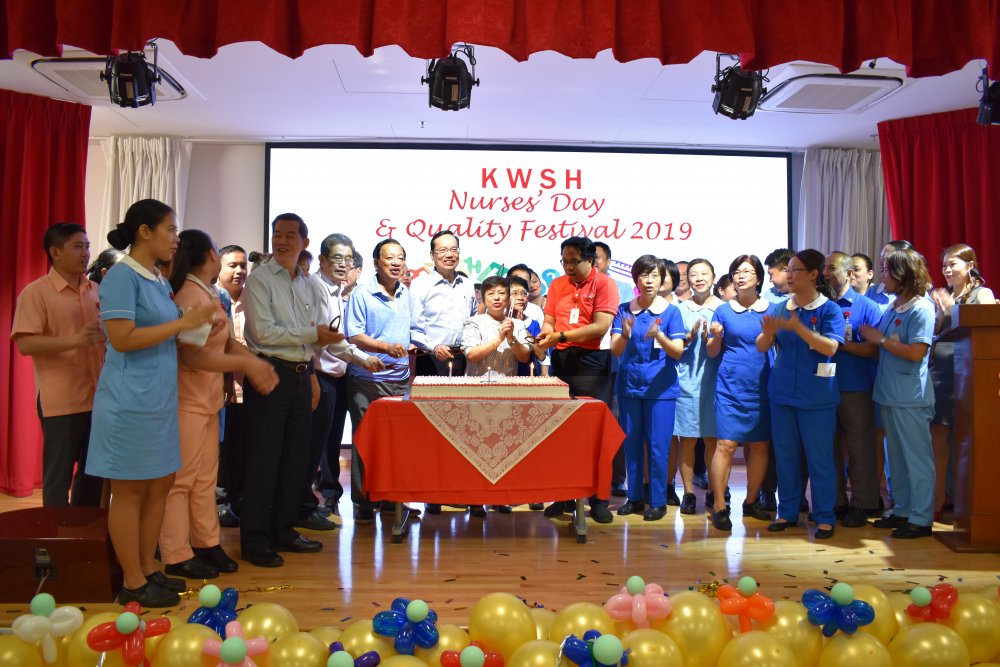 Nurses' Day & Quality Festival 2019
Kwong Wai Shiu Hospital (KWSH) celebrated our Nurses' Day on 6 August 2019 at our Multi-Purpose Hall (MPH). To express their utmost appreciation for our nursing staff, our Chairman, Mr Patrick Lee, joined the celebration alongside several of our Board members.
To set the ball rolling, the attendees lent their voices to a group singing session, thanking our nurses through the lovely melodies. It was followed by a cake-cutting ceremony, which added sweetness to the day as everyone applauded the passion and commitment our nurses have consistently put in. This year, KWSH also organised the Nursing Excellence Awards, recognising the selfless contributions made by our most stellar care staff.
It is also tradition for KWSH to celebrate our Quality Festival in conjunction with Nurses' Day each year. There were a total of 28 quality improvement projects carried out by staff from various departments, all aimed at improving our patient care, services and operations. Our CEO, Dr Ow, presented certificates to the staff who participated in the projects, commending their hard work and effort. The posters of each project were also proudly put on display at the MPH. Among the various quality projects, a special mention goes to the 'Food Art' project – an innovative initiative involving our residents. To enhance the residents' meal experience and appetites, a Residents' Food Committee, made up by a group of our nursing home residents, has now been formed, allowing the committee members to regularly contribute ideas for the residents' meals.
One of the highlights of the day was the talent competition held. Besides being professional at work, our care staff are also terrific performers. After a series of impressive performances, the team "Darz & Jutz" from Ward 6 was ultimately crowned the winner with their captivating show and they entered KWSH's 'Hall of Fame'.
Congratulations to all the winning nurses, and we are confident that they will continue to do an exceptional job at taking care of our residents!
Winners of the Nursing Excellence Awards:
Most Outstanding Registered Nurse Award: Mary Rose Barcena
Most Promising Enrolled Nurse Award: Sumiratna Binte Jumaat
Most Admirable Patient Care Assistant Award: Charles Vincent Rogado
Most Dedicated Healthcare Assistant Award: Rodel Noderama Sasabo