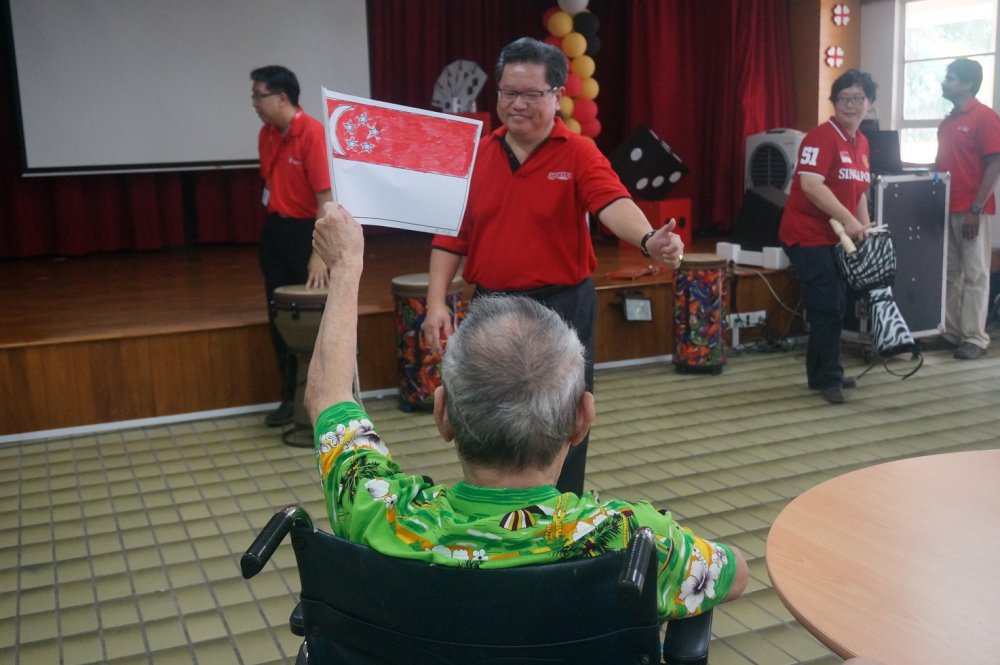 National Day Observance Ceremony 2016
The hospital staff, clad in a sea of red and with their fists placed across their chests, were joined by the residents as they recited the National Pledge with a strong sense of national pride in them.

This was the compelling atmosphere at KWSH's National Day Observance Ceremony on 5 August 2016, a yearly occasion where the KWSH family comes together to reflect upon the nation's achievements as well as how far the hospital has come along since its humble beginnings.

The ceremony began with an opening address by KWSH's CEO, Dr Ow Chee Chung, and was followed by the singing of the National Anthem and the reciting of the Pledge, drumming up the sense of identity and belonging among all those present.

The KWSH family was then treated to a lively song and drum performance by the residents and Admin Caring Team. Named 'Rhythm of Joy', the training sessions prior to the performance had not only helped the residents in improving their mobility functions, but also brought lots of fun in the process. The residents demonstrated great teamwork in their well-coordinated performance, which won a huge round of applause from the audience. The big smiles on their faces is also a testament that their several months of diligent training had been a rousing success.

Mr Daniel Tay, Inpatient Services Coordinator, guided the residents through the training sessions, said "It was very touching to see the entire performance come to fruition. The uncles and aunties had trained for several months, and to be able to see them smiling while playing the drums was just a great moment for everyone here."

The celebration continued with a song number by the staff and clients from the Day Rehabilitation Centre (DRC) followed by a second drum performance, this time by the Admin Caring Team. They performed to local golden oldies such as "新加坡派" and "麻雀街竹枝", before the residents enjoyed a delicious lunch spread.

As KWSH moves towards the completion of its new building in 2017, the hospital will stick closely to its traditional values of compassion and care as it continues its journey of serving the needy elderly in Singapore.