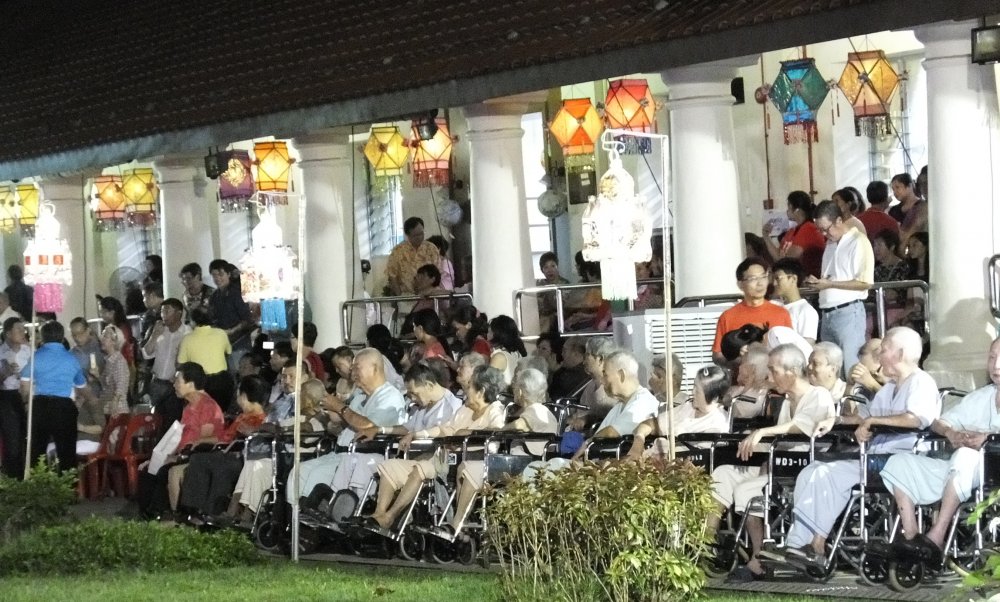 "LIGHT A LANTERN, WARM A HEART" - Mid-Autumn Festival Celebration 2013
"LIGHT A LANTERN, WARM A HEART" – Mid-Autumn Festival Celebration 2013
A significant traditional occasion celebrated by the Chinese, the Mid-Autumn Festival brings joy, love and warmth to families.

Into KWSH's sixth year of organising the Mid-Autumn Festival for the residents, the nostalgically beautiful garden compound of the hospital was transformed into a Lantern Wonderland for the residents and their families, volunteers, donors and community partners to come together for a reunion celebration.

Gracing the event on 7 September 2013 was Mr Heng Chee How, Senior Minister of State (Prime Minister's Office) and MP for Whampoa SMC.

The fabulous display of beautiful lanterns along the walkways and around the pavilion compound was painstakingly hand-made by some of our talented volunteers and generously sponsored by our philanthropic donors. Other than the traditional giant lantern and the "Kong Ming Deng" (sky lanterns) as in the previous year, a new highlight this year was the spiral lantern, measuring 1.5 metres high and 1.1 metres wide, made from recycled water bottles beautifully hand-painted by the volunteer artists.

Another heart-warming segment was the "Lotus Wishing" ceremony which was kick-started by our Guest-of-Honour and our Chairman. The guests were encouraged to partake in this traditional ceremony with purchase of lotus flower candles from which additional donations were raised for the night.

It was indeed another memorable night at KWSH as everyone present soaked in the nostalgic festive mood while experiencing the generosity and love bestowed by our valued volunteers and donors.

Even after a century since its establishment, KWSH is still well supported by the Cantonese clans and associations with their generous donations towards the hospital's operating expenses and its redevelopment fund. The latest supporter that has joined us on this philanthropic journey is the Kowloon Club, which was established in April 1990 by immigrants from Hong Kong.