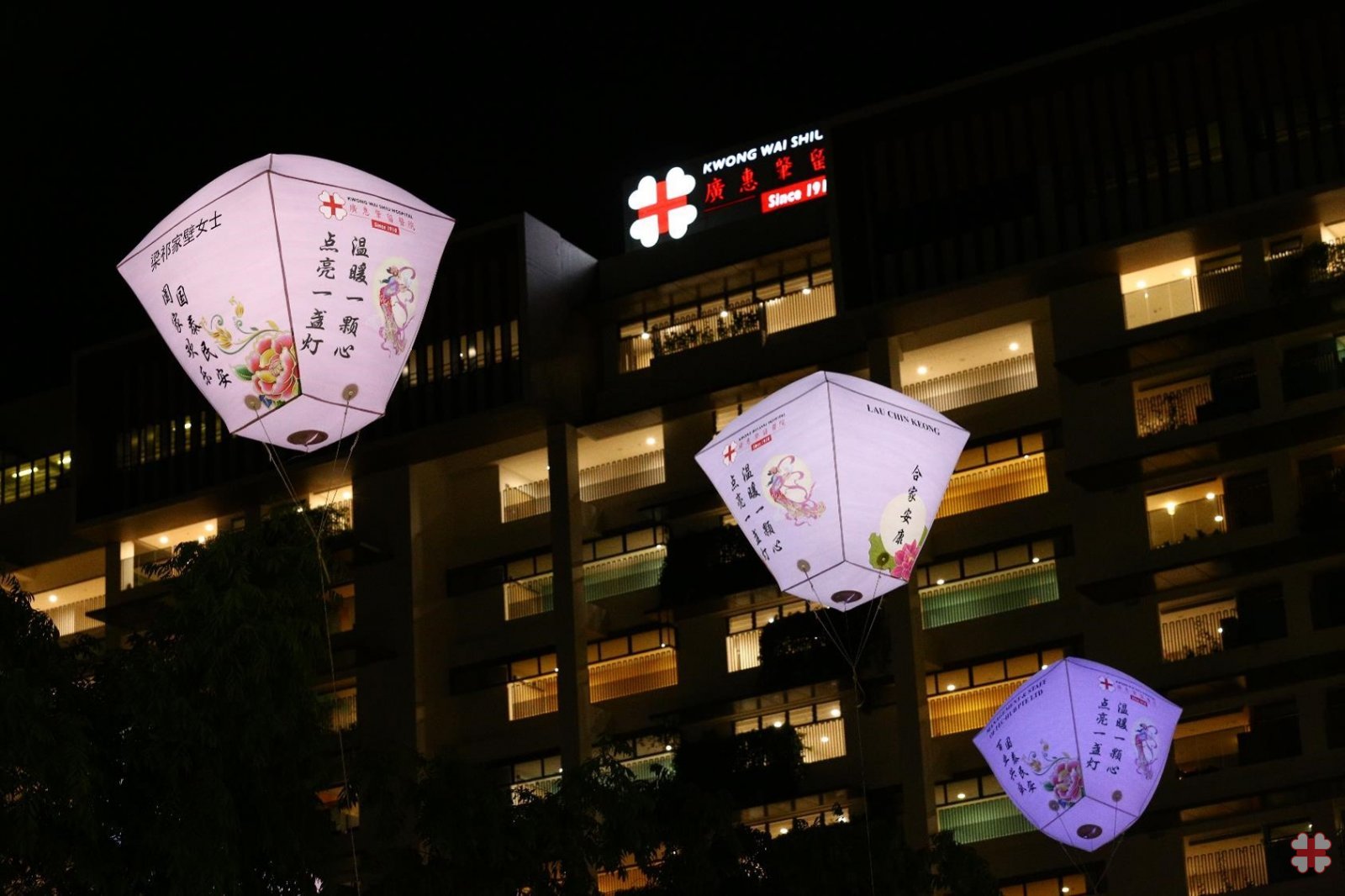 While the coronavirus may have put a halt to our annual Mid-Autumn Festival celebration event, KWSH continued with our tradition to light up the Hospital premises with lanterns sponsored by our donors.
With hundreds of lanterns lining the KWSH compound, a simple light-up ceremony was held on 19 September 2020 as we ushered in the eighth lunar month. While it was not to be our customary large scale celebratory event due to the various Covid-19 and safe distancing measures, this year's festival of reunion was celebrated in an equally meaningful fashion.
Around the Hospital, more than 400 of the lanterns on display had been adopted by our generous donors. These included 15 huge Kong Ming lanterns carrying words of blessings and well wishes from the donors, as well as 401 other lanterns painted by our volunteers. While we were unable to welcome the donors who adopted the lanterns to our premises this year in view of the current coronavirus situation, our KWSH Chairman, Mr Patrick Lee, and Fundraising Committee Chairman, Mr William Leong, were on hand to release the sky lanterns on behalf of the donors. Besides raising the donors' wishes into the sky, the two representatives were also invited to make a wish at the lotus pond as they set sail their lotus lanterns.
The highlight of the night was the ceremonial light-up by Chairman Patrick Lee which unveiled our biggest lantern this year. An absolutely gigantic lantern, this marvellous artwork was created out of the structure of the iconic KWSH pavilion and tirelessly hand painted by volunteers, with each panel proudly showcasing various key milestones of KWSH over our 110-year history.
The glow and glitter of the decorations and the sheer height and size of the Kong Ming lanterns had the joyous atmosphere extended even up to the ward levels with mooncakes and other refreshments also served to them. And when the ceremonial portion of the night's programme was behind us, it was now the residents' turn to marvel at our Mid-Autumn splendour as they orderly took turns for their lantern walk in and around the Pavilion Garden, and made wishes at the lotus pond as well.
It was indeed an unforgettable night at KWSH as everyone soaked in the festive mood, especially so for the residents amidst the pandemic which had affected many of their social activities. KWSH would like to thank all our generous donors who continued to support our Mid-Autumn light-up despite the cancellation of the celebratory event and them not being able to join us. Our heartfelt thanks go out to the volunteers as well for making this beautiful night possible. As many of the lanterns continue to shine though the coming nights, here's wishing all a Happy Mid-Autumn Festival!