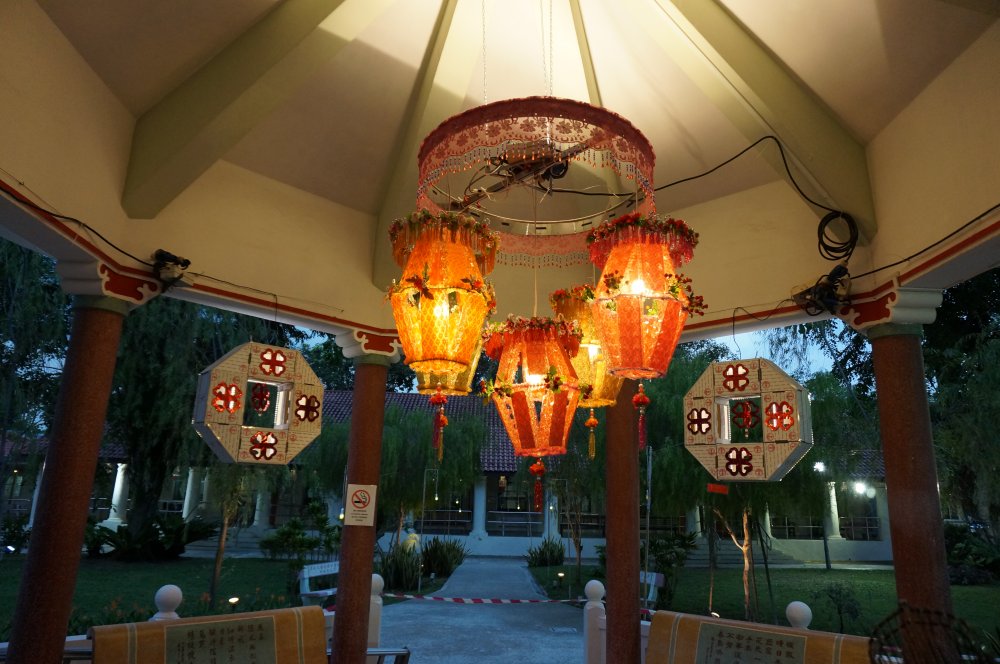 Embracing the tradition of celebrating family reunions during the Mid-Autumn Festival, Kwong Wai Shiu Hospital (KWSH) once again organised a heart-warming and enjoyable evening for our residents. The celebration on 30 August 2014 was a night of exhilarating fun for all the guests, comprising the residents and their families, volunteers, donors and community partners.

All the lanterns were artistically hand-crafted by our talented volunteers. Stealing the limelight were the lanterns made from recycled plastic egg trays and the pieces crafted from used carton boxes. Lanterns tagged with individual names were generously sponsored by our philanthropic donors.

Besides watching the release of the traditional "Kong Ming" lanterns into the sky and a song performance, many invited guests and family members also made some donations in support of the event by purchasing 'wishing lotuses' for the lotus pond and garlands for the volunteer singers. What a great way to show support to our volunteer performers while contributing to the charity fund for the nursing home!

This was the first time that some of our bed-bound residents were able to join in the celebration. Some nursing beds were moved out into the garden compound so that these bed-bound residents were also able to immerse in the festive joy with the other residents on wheelchair. All faces were lit with contented smiles while all hearts were ablaze with the warmth and love from all the charitable donors and supporters.

It was indeed another memorable night at KWSH, especially for residents who for years had not celebrated Mid-Autumn Festival.  Mdm Leong Kin Hoh, who is 103 year old this year, was the oldest resident who joined in the celebration. One of her sons shared, "It is very good of KWSH to organise such an event to make the elderly residents happy especially on such festive occasion."

Mr Tan Chin Mui, a 75-year old resident who used to go out on a wheelchair in the last few years but unfortunately had to be bed-bound this year, was in high spirits when he was escorted to the garden on his bed. Some of Mr Tan's family members also came to join him for the celebration and made the night even more joyous for him.

Another exuberant resident Mr Kong Wieng Poh (85 years old), who was snapping photos with his camera throughout the night, said, "To me, this is the best event of the year as I get to see many beautiful lanterns and enjoy the entertaining performances." With so much positive feedback from the residents and their family members, we are certain that the many months of hard work put in by our volunteers in lantern-making and preparations for the event have been worthwhile; and KWSH's Mid-Autumn Festival celebration will continue annually in many years to come!