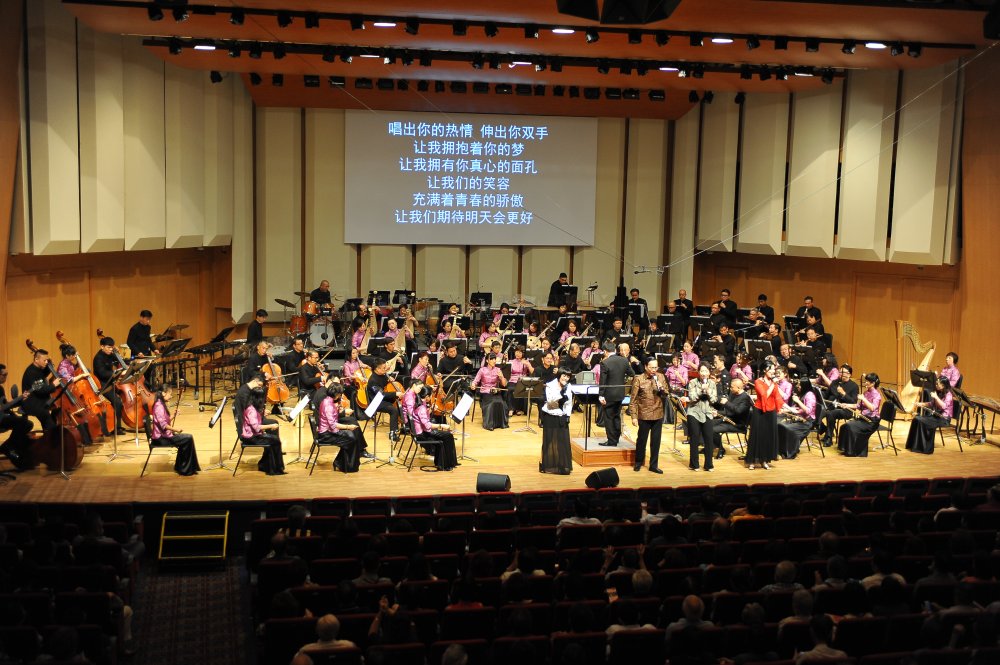 KWSH Charity Concert 2014
KWSH Charity Concert 2014 – 慈爱满狮城慈善演唱会was organized by Kwong Wai Shiu Hospital (KWSH) in collaboration with the Singapore Chinese Orchestra (SCO). It was part of KWSH's efforts to fundraise for the nursing home and its redevelopment project. Gracing the event was Ms Grace Fu, Minister, Prime Minister's Office, Second Minister for Environment and Water Resources and Second Minister for Foreign Affairs.

Well-known for its high performance standards and versatility, SCO had put in commendable effort into organizing a magnificent concert. Under the baton of resident conductor Quek Ling Kiong, the audience got to reminisce popular evergreen tunes from a collection of theme songs from Hong Kong television serials, including blockbusters like 《上海滩》'Shanghai Triad', 《陆小凤》'Theme Song Lu Xiao Feng' and 《千王之王》'King of the Gambling Swindlers'. Another highlight was the performance of the original score from a local short film,《小字条》'Little Note', written and directed by Royston Tan who was also the famed producer of box office hits, 881 and 12 Lotus. The captivating orchestra performance was interweaved with the heartwarming film screened on stage.

The audience also had the opportunity to participate in a special segment – 'Conductorcise', led by the music conductor Mr Quek Ling Kiong, while mesmerizing in the symphony of《百乐门怀旧》'Reminisces of Paramount'. Conductorcise – as implied in the name, got everyone's heart racing by turning each audience member into an orchestra conductor. The audience got on their feet and moved with the beat of the music – truly a sound workout for the body and soul.

KWSH was also honoured to have Ms Maggie Teng as the Guest Artiste for the night. As Singapore's first Mandopop export to Taiwan in the 1980s, Maggie entertained the audience with four evergreen romantic songs from the 1980s -《溫柔的夜》'Gentle Night', 《万水千山总是情》'Love and Passion', 《我只在乎你》'I Only Care About You' and 《难得有情人》'Happy Are Those In Love'.

The finale of the evening was a group singing led by Guest-of-Honour Ms Grace Fu, KWSH Chairman Patrick Lee, the Concert Organising Committee Chairman Ms Terene Seow and Guest Artiste Maggie Teng. Joined by the audience, they belted out the song, 《明天会更好》'A Better Tomorrow', leaving everyone in an exuberant spirit.

We are thankful to the organizing committee and the staff of the Fundraising Department for all the hard work in making this event a great success. The total amount raised from the concert was around S$900,000. We appreciate the kind generosity of all the donors.