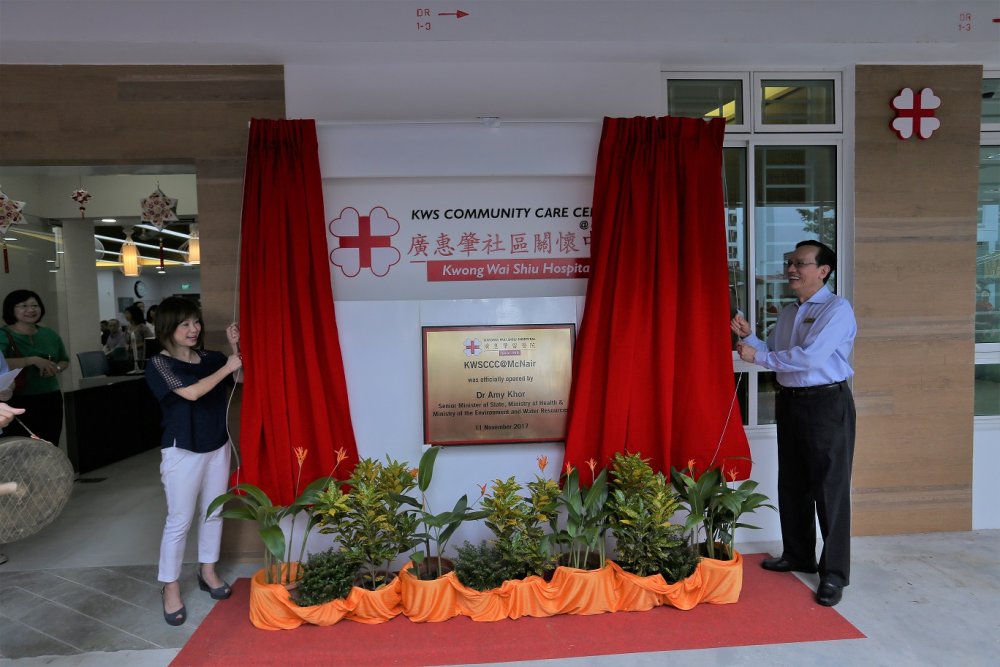 Official Opening of Kwong Wai Shiu Community Care Centre @ McNair
On 11 November 2017, in conjunction with Kwong Wai Shiu Hospital's 107th Anniversary, the Kwong Wai Shiu Community Care Centre @ McNair (KWS CCC @ McNair) was officially opened. Following an energetic lion dance performance, the 100 over enthusiastic guests in attendance witnessed the opening, with our guest of honour, Senior Minister of State for Health and the Environment and Water Resources, Dr Amy Khor, unveiling a commemorative plaque.

The KWS CCC @ McNair is a one-stop day centre that provides day rehabilitative care services and social programmes for the elderly. It is also our first facility beyond our main site and the first Active Ageing Hub (AAH) to be opened in Singapore. The AAH is a Ministry of Health's initiative in new housing estates to encourage interaction and cohesion among the elderly in the community.

At the official opening, KWSH also entered into a partnership with Ngee Ann Polytechnic (NP) with the signing of a memorandum of understanding aimed at enhancing our residents' quality of life and to increase the overall productivity of caregivers. Through the collaboration with NP, KWSH will be able to adopt 'Smart Community Care' by identifying and developing various blueprint technologies that can be innovatively applied to our Community Care Centre, Senior Care Centre and nursing home.

Dr Amy Khor also toured the facilities and viewed various NP projects that were exhibited at the centre. She also mingled with the members to understand how the residents have benefitted from having a Community Care Centre at their doorstep.

As KWSH continues our transformation into an integrated nursing home and community hub, a second Community Care Centre is set to open its doors at St. George's Lane in 2019. This will allow KWSH to further extend its reach into the community.

The opening of KWS CCC @ McNair is a significant milestone for KWSH. With the continuous support and generosity of our donors and partners, we are confident in our mission to serve the Kallang-Whampoa community by providing quality, affordable and accessible healthcare to one and all.