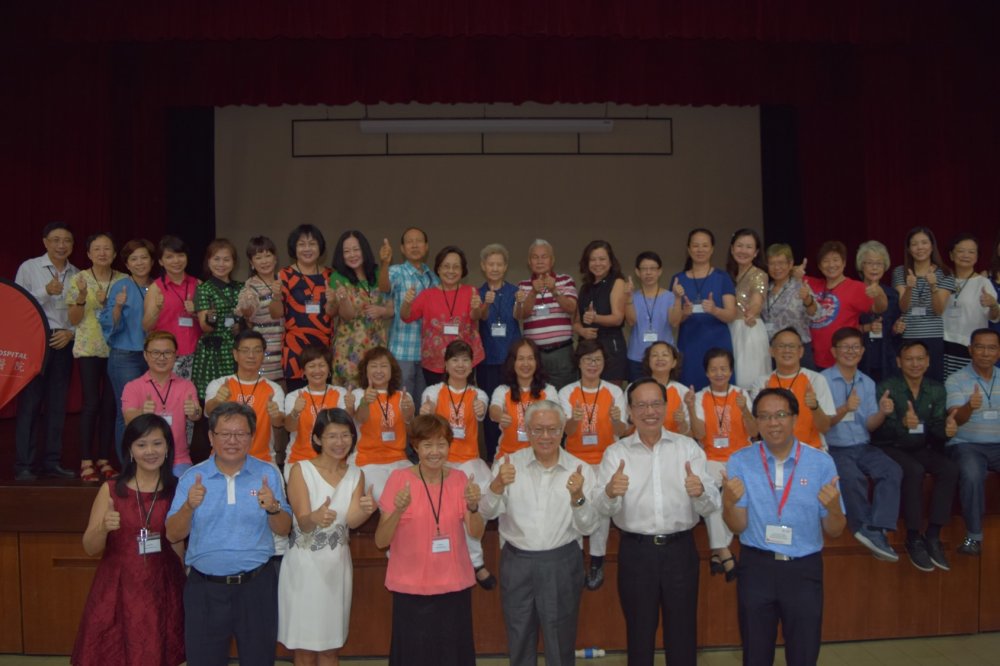 "Kwong Wai Shiu Kopitiam" Welcomes President
28 March 2017 – It was a regular "Kopitiam Diaries" session for residents of Kwong Wai Shiu Hospital but some residents were in for a surprise when they welcomed a very special "volunteer", none other than our President, Dr Tony Tan. On this day, the volunteers, affectionately known as "Kopitiam Kakis", had shifted the "Kwong Wai Shiu Kopitiam" out of the nursing home premises to Kallang CC. With the typical kopitiam round tables and plastic chairs all around, and not forgetting the traditional way of brewing old-fashion coffee with a sock performed by a few of the kakis, one would have been forgiven for mistaking the CC hall as an actual kopitiam.
The President's arrival was met with rapturous applause before the afternoon kopi session began. Along with our volunteers, the 40 residents had a great time with the President as he made his way around, stopping by each table to join them for their coffee and tea. Delighted by the President's visit, the residents intrigued the affable Head of State with their personal stories and Dr Tan was also presented with a handicraft souvenir made by our residents.
The "Kopitiam Diaries" is one of the community-led initiatives at KWSH. With the "kopitiam" being a quintessential icon in the neighbourhood, our elderly's familiarity with the local coffee shop setting creates a relaxed atmosphere and sets them at ease when interacting with the volunteers. This three-hour activity held every Tuesday is highly popular and well-received among our elderly residents. Since its inception, "Kopitiam Diaries" has been a great tool for reminiscing, socialising and keeping the residents connected to the community.
Supported by the Silver Volunteer Fund, "Kopitiam Diaries" aims to rally the seniors in the community to remain active even as they age. The Silver Volunteer Fund was introduced in 2015 and is championed by the President's