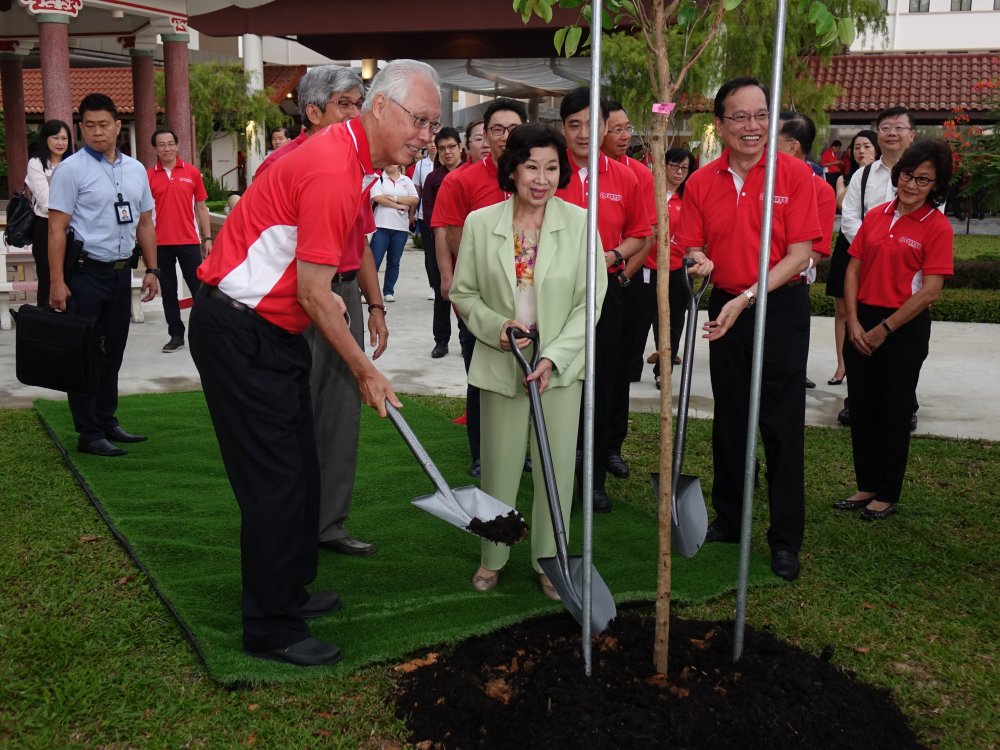 On 30 March 2019, Kwong Wai Shiu Hospital (KWSH) opened its doors to the community for a fun-filled and healthy morning during our Community Care Day 2019. As the first public event held within KWSH after the official opening of our redeveloped premises in October 2018, the event was especially meaningful for the Hospital. Nearly 800 elderly showed up and took part in the wealth of activities lined up for them.
Emeritus Senior Minister, Mr Goh Chok Tong, graced the event as Guest Of Honour (GOH), together with Mrs Goh. This marks Mr Goh's second time at our Hospital, after his first visit during the Hospital's 71st anniversary celebration in 1981 as the Minister for Health.
To kick off the event, KWSH's residents put on a special drumming performance, captivating everyone with their beats. The participants benefitted from complimentary health screenings offered by our healthcare partners including Fresenius Medical Care, Healthway Medical, myEar Singapore, Singapore General Hospital, Singapore Women's Association and Tan Tock Seng Hospital. Our own traditional Chinese medicine physicians and rehab team also set up booths to provide consultations for the participants. The event further entertained everyone through performances put up by community organisations and offered a variety of food and games. A notable moment was when Mrs Goh took the stage and serenaded the audience with a few songs. 
During the event, the GOH was updated about KWSH's efforts to establish a regional network of care through an exhibition on our upcoming chronic sick wards. Besides expanding KWSH's portfolio of care to cater to residents with chronic conditions, the addition of the wards will also allow the Hospital to deliver more integrated and appropriate care. Set to open in the fourth quarter of 2020, the 128 new chronic sick beds will further cement KWSH's position as the largest single-site nursing home in Singapore.
One of the main highlights of the event was the tree-planting ceremony. ESM Mr Goh planted a tree on this special occasion and with this addition, all of our past and present prime ministers have each planted a tree in our historic Pavilion Garden. These trees hold profound meaning to KWSH as they signify the unwavering support from our leaders as we serve the needy and elderly in the community.
ESM Mr Goh was then led on a tour around our Hospital, which included a visit to our Heritage Gallery. He also joined the elderly for the festivities at the carnival and took the time to interact with them.
Kwong Wai Shiu Hospital's Community Care Day 2019 would not have been possible without the generous support from all our sponsors, donors and community partners. We would like to express our heartfelt gratitude for their continuous support, and also towards the community for joining us this joyous morning. We look forward to greeting everyone again next year!