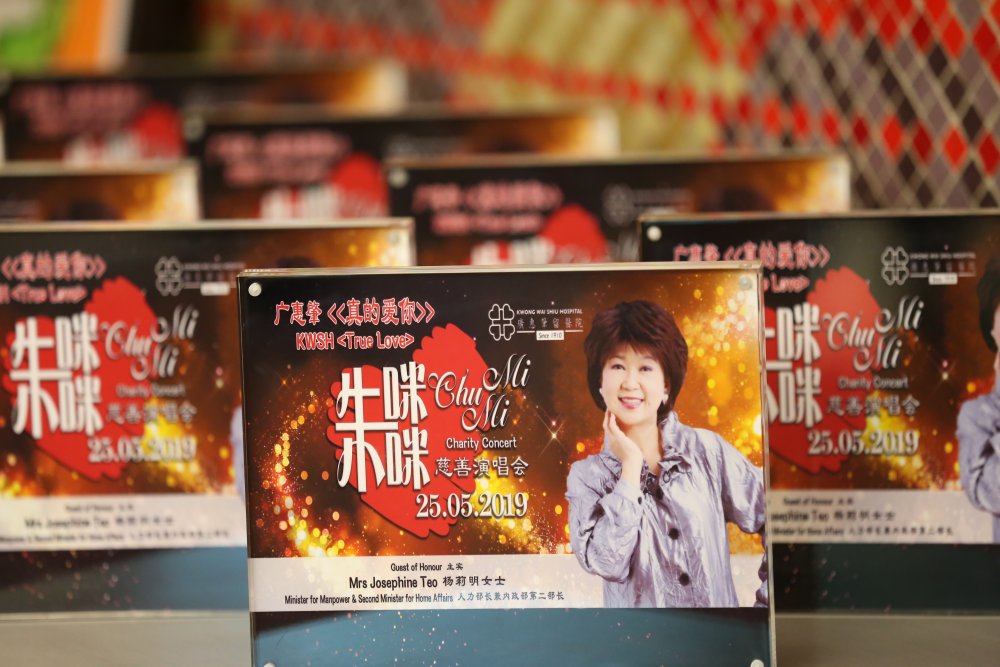 KWSH Expresses True Love Through Charity Concert
On 25 May 2019, a charity concert was organised as part of Kwong Wai Shiu Hospital's fundraising efforts as we took the opportunity to also raise awareness on KWSH's efforts in caring for and supporting the needy elderly, sharing with the audience how we fill the lives of the elderly with love.
This year, the concert featured renowned artiste Chu MiMi, a household name in Singapore, Malaysia and Hong Kong. Besides her support toward KWSH's annual charity concert, Chu MiMi had also visited KWSH on a number of occasions in recent times, engaging herself in voluntary work and performing for our residents. As the True Love Chu MIMi Charity Concert unfolded, she belted out familiar oldies from the 70s and 80s, including hits such as the Cantopop classic The Bund, originally sung by Hong Kong crooner Frances Yip, and a series of Paula Tsui evergreens that captivated the crowd throughout the two-hour long concert at the Singapore Conference Hall. In attendance at the gala was Mrs Josephine Teo, Minister for Manpower and Second Minister for Home Affairs, who graced the event as our guest of honour.
KWSH board member, Mr Pan Tien Chor, joined in the act with a duet with Chu MiMi to rapturous applause. The concert's climax then ensued when Chu MiMi invited Mrs Josephine Teo on stage. The Minister graciously took to the stage and charmed the audience with a solo performance of the hit theme song from the 1982 Hong Kong television drama Love and Passion. It was undoubtedly the loudest cheers of the night during Minister Josephine Teo's segment, setting the perfect stage for a rousing end to the concert. Spirits were high as Mrs Teo, now joined by Chu MiMi, KWSH's Chairman Patrick Lee and members of the concert's organising committee, led the audience in a finale mass singing of the all-time Cantonese favourite Truly Love You.
With everyone's support as well as the enthusiastic displays from Minister Josephine Teo, Chu MiMi and all the other performers, a total of $918,830 was raised through the concert. These funds will certainly go a long way in serving the needy elderly as we continue to extend our reach to the community. KWSH would also like to express our sincere thanks to all benevolent personages as well as sponsors including Leung Kai Fook Medical Company (Pte) Ltd, the sponsorship in memory of Mr Loh Ah Lay Richard, S C Wong Foundation Trust, Singapore Kwong Wai Siew Peck San Theng and Tote Board Group. Our heartfelt gratitude also goes to the many organisations and individuals who had donated towards this meaningful cause.
Lastly, a big thank you to members of the organising committee for their dedication as well as staff who volunteered their time in making the concert a success.