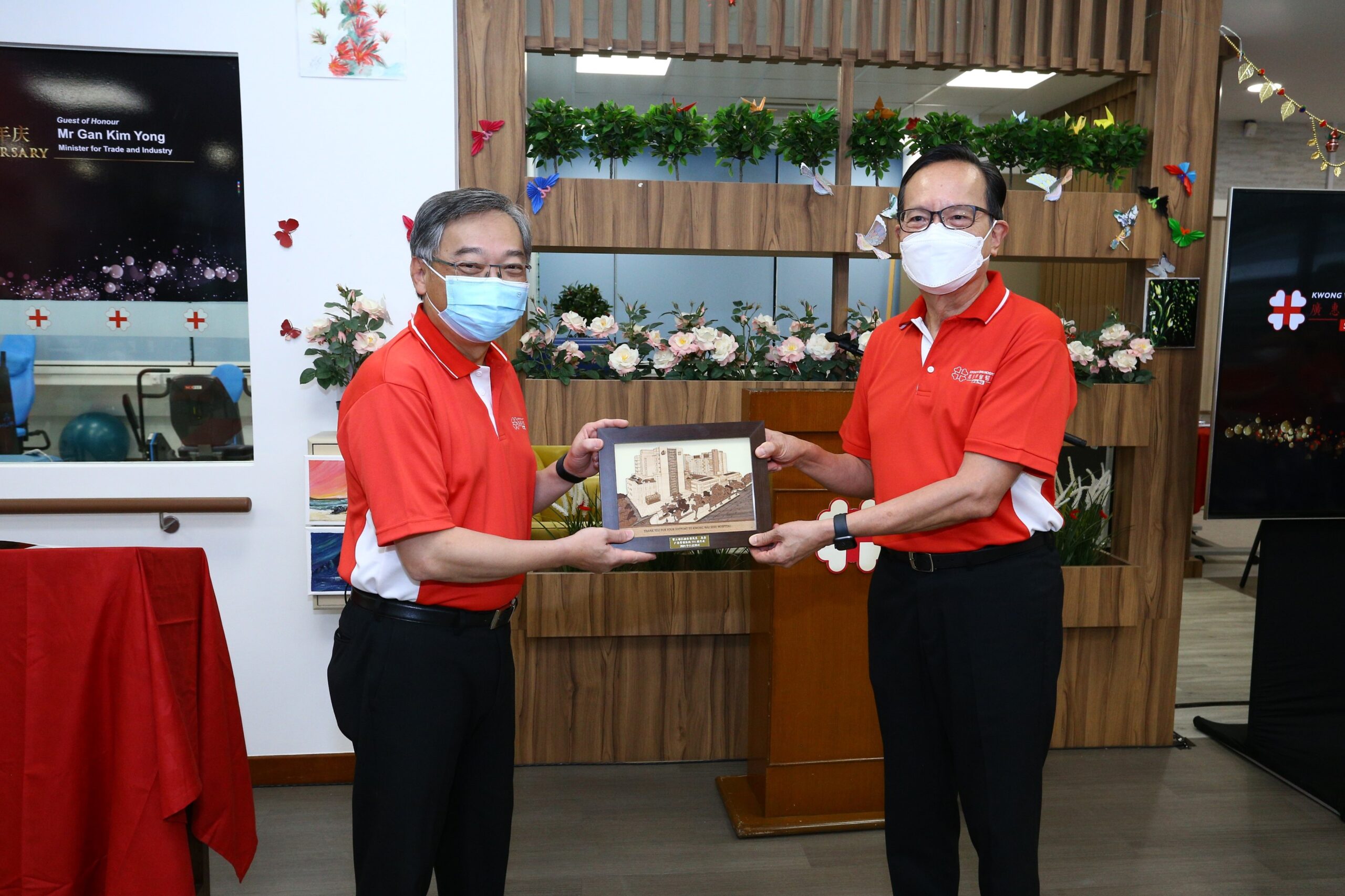 Commemorative Book Launched and New Wards Opened at KWSH 111th Anniversary
On 20 November 2021, Kwong Wai Shiu Hospital (KWSH) celebrated its 111th anniversary with Mr Gan Kim Yong, Minister for Trade and Industry as our guest of honour.
The event was held at Kwong Wai Shiu Care @ St George, one of our four one-stop service centres for elderly conveniently located in the community. In accordance with the prevailing safe management measures, KWSH took careful considerations to calibrate the special occasion for a scaled-down invited group of fully vaccinated guests.
As we celebrate the milestone of our rich heritage, it was indeed befitting to launch KWSH's 110th anniversary commemorative book, honouring the legacy of our forefathers and inspiring the future generations to uphold the admirable philanthropic self-giving spirit. Upon the unveiling by Minister Gan and KWSH Chairman, Mr Patrick Lee, the book, titled Kwong Wai Shiu Hospital 110 Years (1910 – 2020), made its first appearance to all present.
To double up the celebration, we also took the opportunity to invite Minister Gan to officiate the opening of the new nursing home wards located at our KWSH main site. Housed in the new Block F within the KWSH campus, these wards have a total of 128 nursing home beds with the capacity for chronic sick care. The opening of the additional wards further strengthens KWSH's position as the largest single-site nursing home in Singapore.
KWSH's success today could not be possible without the tireless commitment of our Board of Directors and it was a great honour to have Minister Gan to present the recognition awards to our deserving long-service Board members on this joyous occasion. During the event, Minister Gan also presented tokens of appreciation to our major donors, whose support and contributions play a crucial role to the continuity of KWSH's journey.
KWSH would like to express our heartfelt gratitude and appreciation to all our champions and supporters for the continuous support towards our cause of providing affordable and quality healthcare services to the sick and needy, regardless of race, language or religion.
Kudos to all for being part of our Kwong Wai Shiu family!